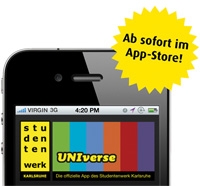 UNIverse
The official app of the student union "Studierendenwerk Karlsruhe" for students in Karlsruhe and Pforzheim.
With our App "UNIverse" you have access to all relevant information concerning student life such as:
menu of your dining hall
accommodation office
job board
bill-board
language partner "tandem"
events
news
Study! We will take care of the rest.