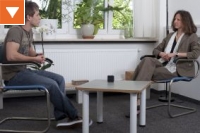 Test anxiety? Concentration difficulties? Self-esteem problems? Loneliness? Relationship conflicts? Fear of the future? - the PBS of the Studierendenwerk Karlsruhe can help you!
Studying is not always easy and is rarely linear. Detours, obstacles and mishaps are normal during the studies. But some problems can make it hard to learn, to progress, to be happy or to enjoy the leisure of life. And with some difficulties you can feel quite alone, even in the midst of the other students, well-meaning parents and other advisers.Whether in study-related or personal problems:
The Psychological Help (PBS) of the Studierendenwerk Karlsruhe offers professional counselling and support:
Therapy sessions for individuals, partners and groups
Workshops (eg. stress relaxation, learn and work difficulties)
Crisis interventions
Lectures
Info-material
Advice for those who care about another student's worries and want to help them.
Our
counselling service
is free of charge, subject to the statutory duty of secrecy and aims all students at the universities in Karlsruhe and Pforzheim (as well as their friends, family and lecturers).