Federal program Lingual day-care facilities: because language is the key to the world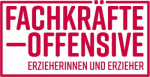 Early language education is an important contribution so that every child has the same starting opportunities. The topics of the program are everyday integrated language education, including pedagogy and cooperation with families. The program strengthens the educational specialists by systematically observing the language development of the children and their own language behaviour, thus embedding ideas for language education in everyday life. The Studierendenwerk Karlsruhe receives a total amount of 100,000 Euro distributed over four years. Therefore, an additional specialist in the field of language education will develop together with the team concepts for everyday language education.
SPATZ - Early childhood language development
"Singing - Moving - Speaking" offers through music education specialists funded by the state of Baden-Württemberg a support program that is available to children with additional language development needs from the first year of kindergarten. This music education program helps promote holistically the language skills of kindergarten children. The project has been running in our day-care facilities since 2016.
Family center
In 2018, the state government continued its funding of the family center with an additional funding of 2,000 Euro in order to promote accompaniment, relationship, encounter, education and care for families through low-threshold and needs based offers. The city of Karlsruhe accompanies the program by organizing regular network meetings of all family centers in order to profit from synergy effects.
PFIFFIXmini The prevention program for kindergarten children
Health promotion in the kindergarten: In the evaluated PFIFFIX project of the health insurance company mhplus, which is carried out together with the SSC Karlsruhe, children are taught healthy behavior with experience-oriented and playful teaching methods. The field of action movement is preferred and includes the areas of coordination, fitness as well as communication and social behavior. The other subject areas are in the fields of nutrition, stress management and relaxation.
Fruit tree sponsorships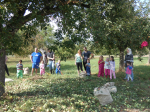 The city of Karlsruhe offers the opportunity to experience orchards over the course of a year, to familiarize oneself with the first work in orchards and to learn about different ways of using fruit. After receiving the certificate of your tree sponsorship, you can harvest the trees. Both of our facilities used this opportunity intensively. Together with the parents, the children harvested 400 kilograms of apples and had them pressed into almost 300 litres of apple juice.
BEKI certificate - Conscious child nutrition
The laughing pear stands for the state initiative BeKi - Conscious Child Nutrition of the Ministry for Rural Areas and Consumer Protection Baden-Württemberg. The BeKi certificate of the state initiative for conscious child nutrition is a quality feature for day care facilities. It stands for a balanced and varied diet. In addition to team training, parenting events were organized to raise awareness of healthy eating. The certificate was issued at the beginning of 2018, after one and a half years of support from the district office "Forum ernähren, bewegen, bilden".