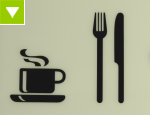 Studying quickens the appetite!
A break from studying – The cafeterias of the Studierendenwerk Karlsruhe
Learning and working all day can be very exhausting; take a break and visit one of our cafeterias!Alongside a reviving cup of coffee, you can choose from a variety of our hot and cold drinks, as well as sweet or salty snacks if you have a small appetite. We also have monthly special offers for you. To ensure you can eat even if the dining halls are closed, we have set up vending machines in many university buildings where you can buy snacks with your
chip card
.Almost every cafeteria has an indoor and outdoor area; you can enjoy the summer sun and the fresh air when it is warm, and you can eat inside when it's cold. Search for the cafeteria that best matches your schedule on the navigation bar to the left.