Exhibitions in the Studentenhaus
2019
September 01 - 30 | 32nd poster competition "Mein Studium, meine Familie - und ich"
November 04 - 29 | Stoffwechsel - Essen in faire Jobs verwandeln
2020
May - July | German-French photo competition "Engagement"
September - October | 33rd Poster Competition "#nextgeneration: Studium der Zukunft!"

EU exhibition "Home"
.
Under the guidance of 12 internationally renowned artists, a total of 144 students of all disciplines from Belgium, Germany, France, Italy, Luxembourg and Portugal participated in six artist workshops dedicated to the themes of "Roots," "Identity," "Home," "Conflict," "Freedom" and "Dialogue." The workshops were related to the artistic genres of crossover, visual arts, photography and dance. In Freiburg, the students explored the theme of " Heimat" in the workshops. The workshops were led by Michael Klant from Freiburg and the Alsatian artist Raymond Waydelich. The exhibition "Heimat" took place in the Musikhochschule Karlsruhe (Rihm Saal). More information about the project and the project partners can be found
here
.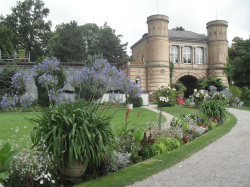 The PHOTO PROJECT -My KARLSRUHE-
New city - New people - New experiencesThe PHOTO PROJECT
-My KARLRUHE-
was created through the connection of the
City of Karlsruhe
to its twin cities. The focus of the project was to capture the city of Karlsruhe with foreign, young and curious eyes from the perspective of innovative students. Construction sites, people, food and much more were in the focus! Our thanks go to all who let their thoughts and feelings shine through a photo lens on Karlsruhe!Daria Pavelescu, intern of the city of Karlsruhe:
"I came to Karlsruhe to participate in a 4-week internship. Together with 21 other students from seven different countries I started this journey. The first week was interesting but also difficult as we got to know each other, students of different nationalities. The strategic construction of the streets (that you can see a part of the castle from everywhere), I found very interesting and helpful. The people from here were very nice, always ready to help, that also made the situation easier. We also had a full program, almost every day we had different activities. This also brought us more together. The communication worked as good as always, despite difficulties with the German language! In my opinion we got along very well and I hope these memories and connections will be carried on into the future of the twin cities!"
---