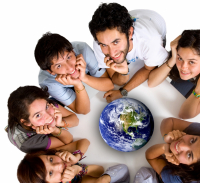 International Evenings
International Evenings are one of the most popular events amongst the German and International students. At these evenings you can learn about specific topics, such as music and food from other countries. German students have the possibility to learn, for instance, about Spanish or Chinese language and culture in a pleasant atmosphere, and at the same time, International students can experience the German language and traditions. All students are welcome!
Because the themes of the respective events are prepared by students, you can get information about the themes from the employees of the International Student Center. Attendance is strongly encouraged!
October 10th, 2019 | Speak Dating evening - Sprachpartner/in finden leicht gemacht
Are you learning a language, then our Speak Dating event is the best place to be! Whether Spanish, English, Chinese or Hindi - Get to know new people in tandem and find your next language tandem partner. We are looking forward to meet you!
REGISTRATION
November 6th, 2019 | Salsa introduction course
Our dance teacher Ivan Guerrero offers a salsa mini-course this semester! The dance class will take place on 06.11., 11.11. and 18.11.2019 from 18.00 o'clock. Duration approx. 45 minutes. All participants are cordially invited to get to know the magic of Salsa at the Studentenhaus, Adenauerring 7, Karlsruhe!
REGISTRATION
November 13th, 2019 | Japanese calligraphy workshop
With our Japanese teacher Mamiko Takegahara we take you into the world of Japanese calligraphy! It starts at 17:30 in the [koeri]werk® in the dining hall Am Adenauerring, Karlsruhe.
REGISTRATION
November 13th, 2019 | Guitar lessons
You always wanted to learn to play the guitar? Then take the opportunity and come to our introduction course on 13.11., 20.11., 27.11., 04.12. and 11.12.2019. Duration approx. 45 minutes, from 18:00 o'clock. The course is free of charge.
REGISTRATION
Dezember 13th, 2019 | Advent celebration for student refugees
The theme of the evening is Advent and Christmas. Together we want to experience a cozy evening with a Christmas flair! There will be also delicious Christmas cookies.
REGISTRATION
Januar 11th, 2020 | Ice skating in Karlsruhe
This winter season is again dominated by the "Stadtwerke Eiszeit", which is all around the statue of the great duke Karl Friedrich on the Palace Square. You can improve your skills on a 1000 sqm ice skating rank or just learn something new.
REGISTRATION
17. Januar 2020 | Chinese cooking class – Dumplings for everybody!
The Chinese Spring Festival, the most important traditional holiday in China, is upon us. How do you celebrate the New Year in China? What do you eat for the Spring Festival? We cordially invite you to the Chinese cooking class. Together with a teacher from China, we will cook the most popular dish of Spring Festival, namely Chinese ravioli. What is cooked, of course, is eaten. There are also drinks and Chinese snacks. We are looking forward to meet you! Fee: 3 €
REGISTRATION
January 22nd, 2020 | Osteuropa Abend
This semester, we are also looking forward to Eastern European traditions, music and snacks. Students from Eastern Europe are invited to introduce their country! Everyone else can look forward to an exciting evening with entertaining lectures.
REGISTRATION