The workshop "EUROPE from TOP,
from BOTTOM or from the SIDE?
Where do you put yourself, YOU IN EUROPE?"
in Freiburg
Workshop for students from July 6-9, 2018
The workshop takes place in different rooms of the Institute of Fine Arts at the University of Education Freiburg. The art media room, the photo studio and the photo labratory can be used. The participants are initially introduced to the possible ways of working in these rooms with new technologies in the foreground. This includes working with a video computer, handling a drone, or using a 3D scanner. Starting from these introductions, everyone can develop freely and realize their own artistic projects with the appropriate advice and support. Playing with different perspectives will therefore be important, according to the motto: "You in Europe - in the middle of Freiburg".
The workshop leaders
Prof. Dr. Michael Klant
Artist and art scientist, since 1991 Professor at the Institute of the Arts of the College of Education: www.michaelklant.de
Raphael Spielmann
Art lecturer at the College of Education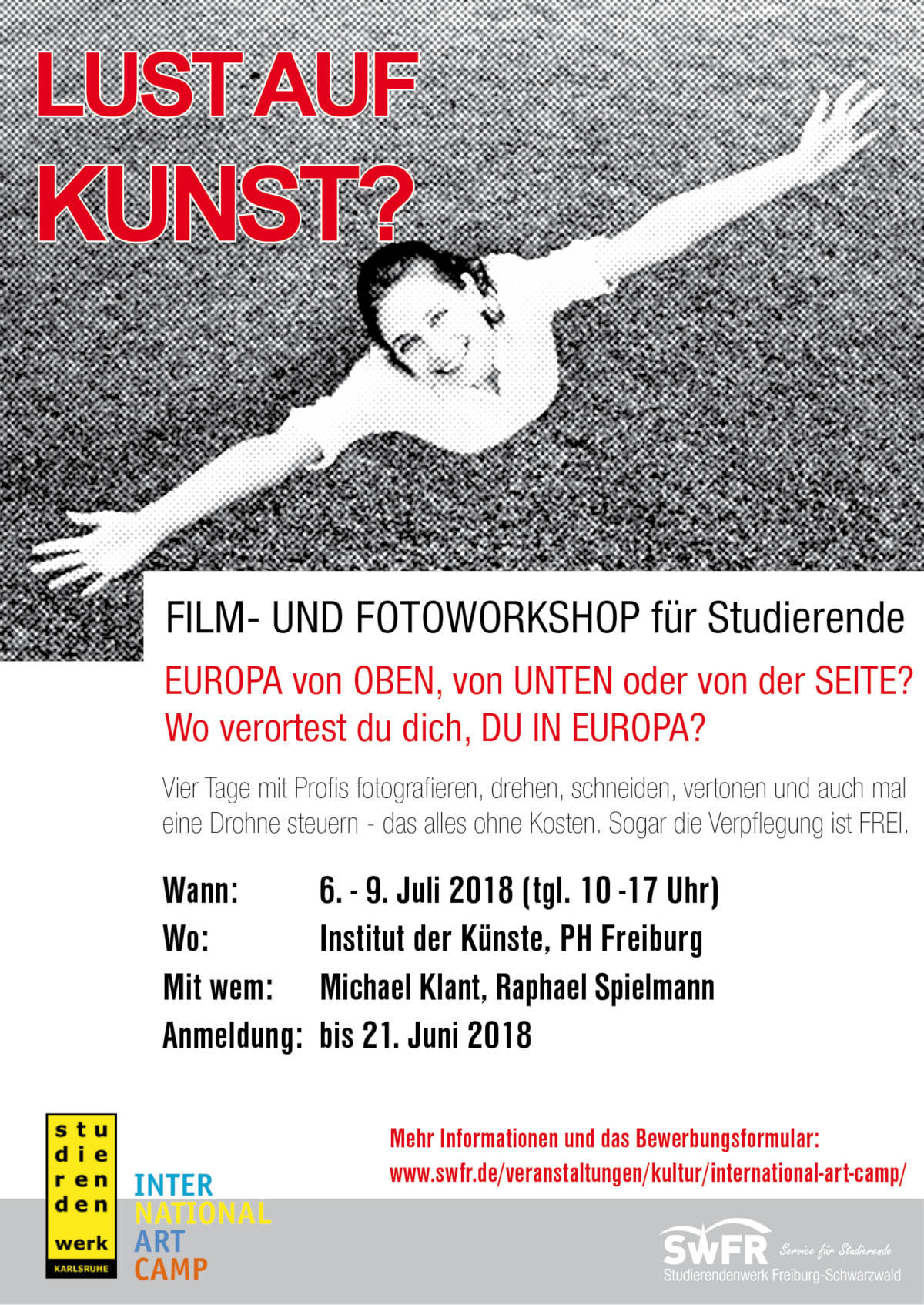 The Workshop
"ME IN EUROPE: IN THE MIDDLE OF KARLSRUHE"
in Karlsruhe
Workshop for students from July 5-8, 2018
The workshop will be conducted under the professional guidance of photographer, Christoph Oeschger. The students receive a theoretical input on the basics of photography, such as image design, various attitudes within photography, technical fundamentals, photographic technology, and image processing. After that, they can put the acquired knowledge into practice at the Council of Europe in Strasbourg and at the Rhine port in Karlsruhe.
The concept of the workshop leader:
"After the Brexit and the crisis in Greece much has been said in relation to the EU. But existing longer than the EU, Europe remains a hub for cultural and economic activity. The Rhine bears witness to this, as it was one of the most important connections between north and south connecting the Celts.
We also will use this river as a starting point for our workshop, which leads us along the Rhine first to the port and then to Strasbourg. In addition to technical and creative principles of photography, the medium should also serve as a tool to investigate today's circumstances. "
The workshop leader
Christoph Oeschger
Fotograph