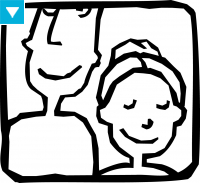 Helfen statt Miete zahlen - eine echte Alternative auf dem Wohnungsmarkt
Housing partnerships – students help with daily chores and in exchange pay lower rent
You're looking for accommodation, you're a student at a university in Karlsruhe or Pforzheim, and you're interested and involved in social initiatives? Then "Housing partnerships" is the right thing for you!The Paritätische Sozialdienste has been offering accommodation for students in cooperation with the Studierendenwerk Karlsruhe since 2008. Instead of paying rent, students help with daily chores. The cost of utilities are paid by the students.

Where do the students live?
Mostly elderly people are offering a spare room. The students might be expected to go grocery shopping, help with household and garden chores, take the dog for a walk, or accompany their landlord to the doctor or theater. Most of them appreciate companionship and discussion with the younger generation. Care services are excluded.
Even families are open to such a housing partnership: the student can help with homework or with the kids, and do some laundry.
"Housing partnerships" place students in an inclusive, shared accommodation, in cooperation with two facilities for people with disabilities – Hagsfelder Werkstätten und Wohngemeinschaften Karlsruhe, as well as Lebenshilfe Pforzheim. The students help with daily chores and leisure activities.
What are the details?
The students fill out an application form with their interests and wishes, as well as the services they can provide; the housing providers state their wishes and needs. We also need an enrollment paper from the students with specifications about their previous experience and motivation. This application form can be found under "Downloads".
We then meet the prospective students and housing providers – so we can bring together suitable candidates.
The general rule is: 1 sqm housing = 1 hour of help per month.
Example: A female student is renting a 16-sqm room from an elderly lady. Bathroom, kitchen and balcony are shared. The student is committed to help 16 hours per month. The rent is dropped, but the costs for utilities (electricity, gas, water, garbage collection) are paid by the student.
There can be exceptions for this rule, but this must be discussed beforehand.
When the prospective students and housing providers meet and agree upon a move in date, the two parties will then sign a renting contract. We can help with the preparation of a contract.

How long can a student live in a housing partnership?
The students must be enrolled in a university in Karlsruhe or Pforzheim. When the course of study ends, so does the housing partnership. If the students continue to live with their housing providers, they must sign a new, separate contract, wherein they are no longer are covered by accident and liability insurance through the Studierendenwerk.
Interested?
Information on the project and current housing partnership offers can be found on the webpage
http://www.paritaet-ka.de/dienste/wohnpartnerboerse.html
or on facebook
http://www.fb.com/wfh.karlsruhe
and Instagram
@wohnen_fuer_hilfe
.
Or contact us via phone 0721 – 91230-34 or e-mail:
wohnen@paritaet-ka.de
.If you wish to apply for a housing partnership, please fill out our application form and sent it to us.