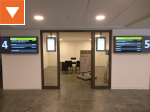 Service from Monday to Friday - Your Service Office in the foyer of the Am Adenauerring dining hall
Important Services – short distances
…… is the motto under which we established the Service Office in the foyer of the Mensa am Adenauerring.After the refurbishment of the foyer, the Service Office is open again. You will find it between the stairways to the lines 3/4 and 5. You will receive further information by selecting the respective day of the week or provider.
Tuesday: KIT Career Service
Wensday: CyberForum e.V.
Thusrday: University Team of the Employment Agency
Friday: Techniker Krankenkasse