Interculturality - the key to success?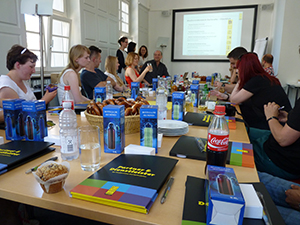 Absolutely! And not only to be able to survive in a global business world later on, but also to be able to successfully complete your studies together with fellow students from all over the world.
And last but not least, also to get to know oneself better. For there can only be an idea of others where there is also an idea of one's own. And in order to be successful together on an intercultural level, awareness of the others and one's own is enormously important. Sounds complicated? But it is not! Because all you need is exchange with others. And we make this possible for you! Whether with the help of lectures in another language, in the form of a longer excursion to other countries, together with students there or through project work in our country. Do you have any questions? Then write to us at:
isc@sw-ka.de
. We will be happy to help you!
GERMAN-FRANCO-POLISH STUDENT ENCOUNTER

The German-French-Polish student encounter between the Studierendenwerk Karlsruhe, CROUS Strasbourg and Politechnika Gdańska takes place every two years

15 students from the three countries Germany, France and Poland get to know the three participating institutions on site and deepen their knowledge and intercultural skills through workshops on specific topics. The meeting is sponsored by the German-French and German-Polish Youth Office.

The aim of the exchange is to experience internationalisation on site and to discuss cross-European topics. The participants learn about cultural similarities and differences at first hand through sporting and intercultural workshops in the respective city and on campus. Questions such as mobility will also be discussed: Why is mobility in Europe important among young adults? How can exchanges and encounters between Poland, Germany and France best be organised?

Impressions of the German-French-Polish student exchange in 2015 are available

at

in video form.

More info via mail:

isc@sw-ka.de
EUCOR - THE EUROPEAN CAMPUS

EUCOR, according to the EU Confederation of the Universities of the Upper Rhine, is a cooperation that unites the universities of the Upper Rhine and was founded in 1989. The universities that belong to the cooperation are:

University of Basel,
University of Oberelsass (Mulhouse-Colmar),
University of Straßburg,
University of Freiburg,
Karlsruher Institut für Technologie (KIT)

The aim is to strengthen cooperation at all levels, especially for students. This means that KIT students can attend lectures in these universities. The ECTS points earned there will also be recognized by KIT. Students can not only attend lectures, but also benefit from the areas of joint studies that are provided.

You can find more information at the International Students Office (IStO) ast the KIT:

https://www.intl.kit.edu/ostudies/3644.phpApartments in Karlsruhe

The Studierendenwerk Karlsruhe manages 22 student dormitories with 2773 dormitory places in Karlsruhe and Pforzheim. In addition, it also offers a free private accommodation service for landlords and tenants in Karlsruhe and Pforzheim. You can find more information about housing

here

.

Inexpensive meals for students in the dining halls and cafeterias of the Studierendenwerk

.

At the Mensa Adenauerring and Mensa Moltke we offer a variety of different and inexpensive meals. In the dining halls and cafeterias you can enjoy a variety of hot drinks, cakes, snacks and much more.Further offers, opening hours and prices can be found

here

.

Transport in Karlsruhe

The student ticket allows students to move around Karlsruhe comfortably by bus, streetcar, streetcar and regional train. The KVV (Karlsruher Verkehrsverbund) and the Studierendenwerk Karlsruhe offer the student ticket especially for EUCOR students.

More information about the student ticket can be found

here

.

E-Mail: isc@sw-ka.de

Job market

Students should not be discouraged from studying because of a lack of financial resources.

There are ways to help cover the cost of studying. For example:

BAföG (Federal Training Assistance).
loans for students
Scholarships for students
Short-term or graduation loans
part-time jobs

You can find our job board

here

.

International Student Center

The ISC is an advisory office for German and international students. We offer advice and support in all important matters concerning your studies (e.g. finding accommodation or scholarships). You can participate in a variety of programs. Among other things, we offer an introductory program for new students every semester. There are monthly excursions, evening events, exchange programs, cultural events, the student ticket and intercultural workshops.More information can be found

here

or directly at:

International Student Center, Adenauerring 7, 76131 Karlsruhe

phone:+49 721 6909–204

email:

isc@sw-ka.de
USA INTERNSHIP PROGRAM

The USA Internship Program is offered by Studierendenwerk Karlsruhe in cooperation with the American

University of Virginia Tech

. The program offers American students the opportunity to gain initial international skills for three months at the International Student Center (ISC) at Studierendenwerk Karlsruhe.

Responsibilities

Advice on all aspects of studying for German and international students in German and English in the following areas: Initial advising (housing, financing options), language tandem, language courses, student ticket, culture checkbook.
Supporting translation of information and materials into English.
Support in the organization of event programs (excursions, cultural trips, exchange programs, international evenings).
Organization and implementation of a mini-course "English for Beginners."

Target group

Students majoring in German or International Relations from Virginia Tech with good to excellent German language skills.

Contact

You can get detailed program information

here

or directly at:

International Student Center, Adenauerring 7, 76131 Karlsruhe

phone:+49 721 6909–204

email:

isc@sw-ka.de
FRANCO-GERMAN VOLUNTARY SERVICE

A charitable and personal commitment

.Gathering new experiences, working for others, doing community service: these are the main pillars of the Franco-German Voluntary Service. The Franco-German Voluntary Service is based on reciprocity and operates according to the tandem model. This means that German and French volunteers are sent to the respective partner country at the same time. The tandems meet each other during joint training sessions. The tasks within the framework of the voluntary service are neither a gainful employment nor an honorary office. In particular, the tasks require a strong social commitment.More information at

volontariat.ofaj.org
WORKING STAY OF STUDENTS FROM PARTNER CITIES OF THE CITY OF KARLSRUHE

Every year in August, the

city of Karlsruhe

carries out a multicultural project with students from its partner cities. The internship is completed at the Karlsruhe city administration or other cultural institutions and is partially sponsored by the Franco-German Youth Office. The participating students come from the twin cities of Nottingham, Halle, Krasnodar and Timisoara, as well as Rijeka and Lublin. In 2016, the Studierendenwerk Karlsruhe hosted an intern, Daria Pavelescu, from Timisoara. She completed a stay in our International Student Center from August 1 to 26, 2016. During her stay, she had the opportunity to get acquainted with the work in a public institution, to improve her German language skills, to explore the city of Karlsruhe and its surroundings, and to familiarize herself with the German way of life. She also helped with projects at the International Student Center, supported the development of our partnership with the Technical University of Timisoara, and got to know other areas of the Studierendenwerk.
ADDITIONAL PROGRAMS

Additional Programs:

Mexico: RA Tutors Symposium
China: Shanghai Food Culture Days, Jiao Tong University
France: Internship program, CROUS Strasbourg
Italy: Exchange, Villa Finally Florence
Russia: Exchange, Nizhnevartovsk State University