We promote student culture!
With our
Festsaal im Studentenhaus
, we offer you and your fellow students a stage where you can develop and grow artistically. Or a place where you can also take on the role of art recipient at theatre performances and other cultural events.
But not only that, we are also active behind the scenes. Alongside the KIT and the Karlsruher Studentendienst e.V., we are one of the three founding partners of the
Studentischen Kulturzentrums GmbH
, which is also based in our student house. Financially and ideally, we also support many other student cultural forges, including the
stoudent centre Z10
and
Arbeitskreis Kultur und Kommunikation (AKK)
. For
student groups
, we also offer various funding opportunities, e.g.
advertising
of their events using a wide range of media, via banners above the canteen entrance, advertisements on the monitors in our canteen or in our
Event Calendar
.
Booking the Festsaal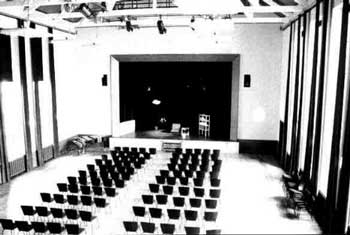 A space for ideas and realisation -
our Festsaal in the Studentenhaus!
It is ideal for events, parties and theatre performances. All recognised student groups and institutions of the higher education institutions can use it. However, student cultural groups have priority! Users of other institutions can rent the Festsaal if time permits.The rental prices and the current occupancy schedule as well as further information on booking can be found
here (german)
.But you are also welcome to ask us in person. Christian Haffner, the director of the KIT Student Cultural Centre, is there for you!
Studentisches Kulturzentrum gGmbH
im Studentenhaus des Studierendenwerks Karlsruhe
Adenauerring 7
76131 KarlsruheManagement:
Christian Haffnerphone: +49 721 691239
fax: +49 721 6624736email:
leitung@skz.kit.edu
website:
www.studentisches-kulturzentrum-am-kit.de