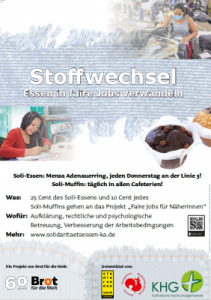 Food does not only help against hunger! Since 2004 a
solidarity meal
is being served in the
dining hall Adenauerring
. Under the motto
"Eating and doing something for others"
an ever changing meal is served at the line 3 every Thursday from which 25 cents will be donated. Since January 2020 the solidarity meal is also available in the dining hall
Moltke
and
Tiefenbronner Str.
. Since a few year there is also a
solidarity muffin
in all
cafeterias
of the Studierendenwerk Karlsruhe – from which 10 cent are donated.
The donations from the period 2019/2020 under the motto "Changing fabric – turning meals into fair jobs" are used for a "Brot für die Welt" project, which helps seamstresses in Nicaragua. This resulted in a total of 7,500 Euro in donations!
416/5000 Together with the partners ESG and KHG, a MISEREOR project has now been selected to support beekeepers in Laos. The motto of the new solidarity project is "Beefair - secure food for Laos with every soli meal". We will inform you about the start of the solidarity meal in a separate press release, the solidarity muffin for this project is already on sale in the Adenauerring cafeteria.
More information:
Solidarity project 2019/2020
Solidarity project 2020/21