Who and what is the International Student Center (ISC)?
The ISC of the Studierendenwerk Karlsruhe offers students assistance in any matter regarding student life. From tandem-language partners, to interesting excursions, such as rowing on a Roman replica of a river warship to international events, such as language and game evenings, the ISC organizes and plans a comprehensive program for all students, International and German. If you want to be even more mobile in Karlsruhe and Pforzheim, you can buy the KVV student ticket here. Advisory tasks round up the services offered by the ISC, be it student liability insurance or a guide through the jungle of the German bureaucracy. General social counselling (for topics such as funding opportunities), organization of intercultural workshops for tutors and a first-year gift - the welcome folder - is also part of the activities of the ICS. The ISC team is happy to assist those seeking advice. You can get to know many new people, different languages and cultures here, just have a look!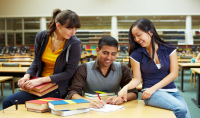 Studying in a foreign country...
... this can be a challenge, but it also provides a chance to get to know different cultures and languages, to get useful experiences and to develop global perspectives, which are getting more and more important these days.Here you can find useful information for when you find yourself in an new city or in a new country.